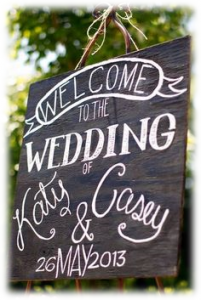 Have you ever wondered how your wedding will be like? Did you picture it be the most amazing and one of a kind wedding? Have you always wanted the most unique ceremony that people just fantasize about?
You're getting married in two months? Don't know how to fulfil that fantasy of yours? We might have just what you need!
Custom Wood Handicrafts is proud to introduce "Custom Wooden Wedding Signs" which is exactly what you need for the most wonderful and exceptional wedding experience. Our wooden wedding signs will definitely add a beautiful personalized touch to your dream wedding! These signs are the cutest and most adorable way to have your flower girls or ring bearers to enter your wedding hall.
You can choose from our wide variety of designs and color themes or you can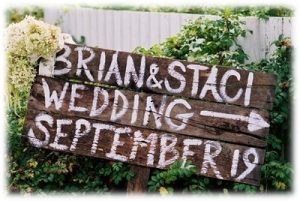 come up with your own. The possibilities are endless-as far as your imagination takes you. Our beautifully carved wood bark can be easily personalized to say anything you want. Add the bride and groom's names or just their initials; add the 'big day' date; write something to welcome the guests; or simply write quotes o the beauty of life. Make it as personalized as you want so that it has 'you' in it! Images and texts both can be engraved. Paint or stain colors can be adjusted according to your wedding reception theme or whichever the event. If you want a different wording than our already made designs, just let us know. We finish our products by staining the sign and then adding a sealer to protect them for a long lasting stunning span.