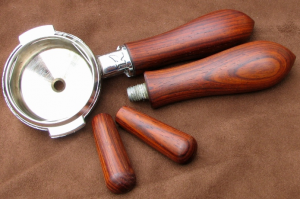 For most people coffee is an essential part of their lives. Most of us can't even imagine a life without coffee. In a world like this pouring a nice hot cup of coffee from your espresso machine is more than just something you do. It is more like a sacred ritual you perform to begin your day in a perfect way. It only fits for us to improve that experience by glorifying the espresso gods. We have just the thing for that.
We will craft for you the most beautiful, custom made, wooden portafilter handles just the way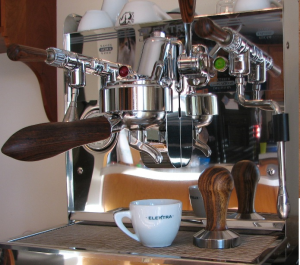 you want them. Our exquisite wood work is guaranteed to glamorize your machine and uplift your espresso experience. A custom made portafilter handle is a must have for every coffee enthusiast.
The perfect finishing and the alluring craftsmanship of our custom made wooden portafilter handles will make pouring coffee the highlight of your day. The best part is you can have them made exactly according to your requirements. You can be absolutely creative and design your wooden portafilter handle to perfectly reflect your own personality. Provide us all the details and leave the rest on us. The end product will definitely leave you in awe.
Customer satisfaction is our top priority and we will make sure that what we deliver to you is worked upon with complete dedication and every tiny detail is beautifully taken care of. We make sure that what we deliver to our customers is what they truly deserve.