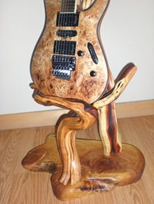 Present day apartments and small living spaces require utility along with least possible space consumption to increase functionality and produce as less hassle as possible. For music enthusiasts, the instruments spread out in disarray especially the bigger ones is a source of aggravation. Many of the stands available for these instruments are bulky and more difficult to manage. Custom-made wooden guitar stands present an elegant and simple solution to this problem. These wooden stands are beautifully lean, small and secure. These stands employ the more delicate laws of physics while encompassing heavy instruments, almost locking them in. The sophistication of these stands mimics the sensation of classical music, blending in with other furnishings effortlessly.
These stands are custom made for every customer, fulfilling particular requirements and managing the quality of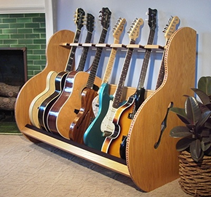 every nook and corner. These are developed in numerous designs to satisfy every client. Every design is an exquisite hand-carved, custom-designed, high quality masterpiece. These custom guitar stands all have a well-rounded stable base with wooden arms extending into various shapes and designs. Many of these wooden stands are without wooden arms, where the guitar is supported merely by the base. These wooden stands have very little weight therefore transportation and maintenance does not become a problem. These stands are packed, loaded and transported with utmost care to deliver the best service to our clients.
Different cases are made according to varying types of guitars, catering to the different masses and structures. These custom wooden stands are also available for more than one guitar in form of a rack. This wooden rack is perfect for the recording studio environments, ensuring easy storage and retrieval.