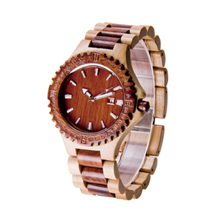 Amp up your inner tradition enthusiast with an elegant wood age reminder. Resounding tick-tock to the beat of the metal gears provides a calming, hypnotizing effect on the go. Get the vintage touch with your everyday look with one light-weight, eye-catching accessory.
Made with supreme quality wood and intricate wooden addendums, Wooden watches is the new, chic trend for men and women alike. We promise to deliver top-notch quality to each client by using premium quality wood pieces and joints from different types of wood, varying in wood color and final result shade. Each and every piece of the wood used is carved delicately and carefully to the utmost precision. These custom watches are hand-made and hand-assembled with a great amount of hard work and dedication poured in. The wooden parts are made to aptly match the performance of their metal counterparts.
Each wooden watch is developed with durable, waterproof metal network. Each spring, clog and knob is well adjusted and secured in its place. Wooden arms of the watch are designed to last longer, perform better with more accuracy and elegance. Each watch is provided with a detachable wooden lid, fixed in securely, to replace batteries and carry out maintenance if need be. The wooden watches are equipped with a tiny wooden knob on the sides to adjust the time. The wooden clasps and locks on the wooden straps of these watches are secure.
Wooden watches can be custom engraved and sized as instructed by the customer. These watches are provided with beautiful wooden cases to protect and hold them with ultimate care. We guarantee a personalized product, befitting your instructions to a tee, with fast delivery and best after-care service for our respected clientele.