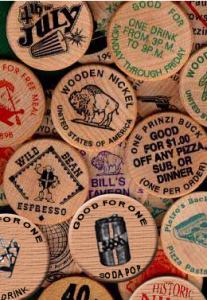 Customized Wooden Nickels, coins and tokens, featuring your logo, increase the client base and customer attractions, towards your business. They are generally more attractive than business cards as clients have an incentive to redeem them. Similarly your logo carrying drink tokens with popular stock designs create a fun and affordable giveaway for your customers.
Serve up a round of Wooden Nickels for your next promotion. Use Wooden Nickels to up-sell a new beverage by offering the first drink free or for a valuable coupon offer. It is an easy way to strike up new conversations with customers.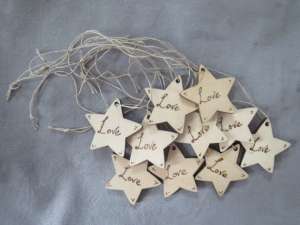 Whether you want to advertise your special drinks or you want to recruit new bar guests by promoting yourself to the entertainment industry, using Wooden Nickels will prove to be the easiest and most inexpensive tactic to advertise your brand. Use them as drink tokens, bar chips, souvenirs, etc.
Wooden Nickels are a fun way to get your message out! Popular for weddings, discount promotions, rain checks and more, these wood coins are union printed in full color to really make your message pop.
Imprint our wooden Nickels with your logo or message to create a unique coupon or prize token. A neat alternative to the factory-made bio-hazardous plastic nickel, these tokens come in a large assortment of colors to match your message.
Increase customer ret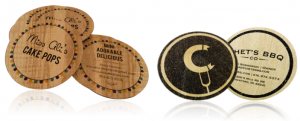 ention with quality custom wooden coins. These Coins feature your custom logo on one side with a stock design on the other and are easy handouts that guarantee the customer comes back.
Giant Round Plastic Tokens Looking to advertise a mega-sized promotion or free giveaway at your business? Do so with these Giant Round Plastic Tokens to be sure clients receive your message loud and clear, Popular with events, bars, parties and much more.