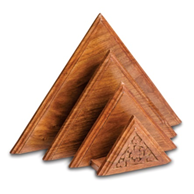 Our communication technologies may advance lightyears ahead but the lovers of pen know how precious those old, personalized communication devices were. The beauty of typed or penned down letters are the treasured, valuable reminders of old times. Many formal letters, invites, bills and official documents are still transferred through mail in crisp envelopes and we know you need a rack just as special to hold the letters.
Customized letter rack is our answer to the empty space on your
counter top. This vintage, simple accessory accentuates your adorable, themed décor.  It is extremely practical and doesn't consume much space. Available in a wide selection of sizes and designs, the racks are made from many varieties of wood. Our specially designed letter racks are just some of the exemplars used to give your living room the finishing touch it deserves.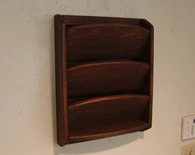 The wooden racks are made by keeping the convenience and practicality in mind. Wooden racks can be made with a frame for a table-top placement or can be customized to hang with a sturdier design. The wood used for each rack is from a single block, with no attachments or rough, unsawed edges. The finishing wax and lacquer gives it a durable, hearty guise.
Every rack can be customized with engravings or inscriptions as well as pictures. All the wooden racks are handmade and hand-carved with extreme precision to deliver supreme quality to all of our clients. Many racks can also be customized to hold pens and letter-pads as an extra convenience to our customer, as we promise to deliver perfection and class through each rack.