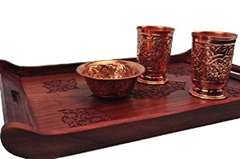 Today, convenience and elegance go hand in hand as most people does not want to compromise on either one. When goods of everyday use get combined with the lovely touches of authenticity and art, that's when the magic happens. To fill your abode with timeless; extremely practical fairy-tale, we bring you our finest wooden trays.
Crafted from exceptionally high quality wood, custom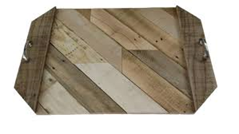 designed and completely handcrafted, every one of these beautiful trays is perfect for any home. Durability, along with top notch craftsmanship is the building block of the serving trays. Various sizes, types and shapes are available for supreme customer gratification.
The customized wooden serving trays can be engraved and inscribed with Family emblems, insignias, mottos, important dates, patterns and quotes. Pictures can also be engraved on the base of the trays to commemorate significant events. This makes it a more than optimal and extremely sentimental gift for anyone.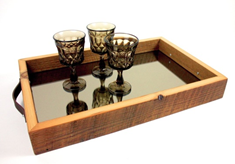 The trays have a wooden base, but can also be customized to have a glass or a plastic base to get a contemporary, elegant touch and to suit particular aesthetics of the clients. All the trays are made with re-sawed, single sturdy blocks of wood. Each tray has intricate state of the art handles or holding-spaces.
The edges on all the wooden trays are sawed off to avoid splinters and to elongate its lifetime. The natural sheen and luster is preserved from water and external conditions by the use of organic bee-wax. With the absurdly low prices and the unbelievably exquisite customer service offered, this product is a no-brainer. Order now to get your picture-perfect customized tray.