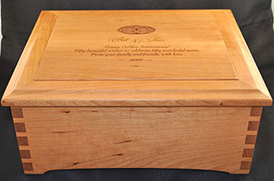 Memories and warm vibes make any space home. Treasuring these memories in material form comes inherently and with ease, indicating the need for custom made wooden boxes. These Wooden boxes can amass several mementoes like faded photographs, autographs, movie stubs, collectibles, trinkets, ornaments and small notes  in them, gathering every cherished moment in a single, secure space.
The custom designed wooden boxes are made with sturdy, re-sawed lumber. The custom shapes and sizes, specified by the client, are unfailingly met. Square and rectangle wooden boxes with varying heights and dimensions are pruned to perfection before being carefully shipped off. Each box has thorough specifications which include the addition of wooden legs and the style of top lid of the box. The boxes also come with inlaid key plates for further security. The corners are finger-friendly and hand-rounded.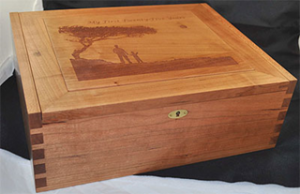 The wooden boxes are available with two types of lids, the overlapping top or the top that fits in between the sides. Both choices are equally exquisite and secure. The boxes also come with an option to add small, shapely wooden legs underneath, giving the boxes a graceful lift. However, the legs are usually recommended with the overlapping lid. The lids are also subjects to custom engravings like symbols, pictures or inscriptions, making these boxes intensely personal and an impeccable present for loved ones. These engravings are done with lasers and are stunningly precise. This extra attention gives it the touch of an artifact and makes it more elegant, satisfying every client with eminent and timely service and a product that emanates class.