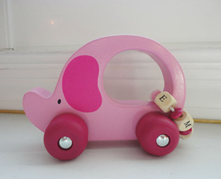 Children make a house, a home. The joie de vivre and the zest they exhibit and exude is the essence of what a family is all about. The exact sentiment is impossible to reproduce or recreate however we have done our level best to make the joyous moments last longer and look prettier with our custom wooden baby cars.
Made with the deluxe quality hardwood available and by caring, attentive hands; the toy cars are made according to customizable dimensions, sizes and shapes. Different accessories can be attached to the cars as well as drawstrings to make those first steps even more animated and cute.
Custom colored to suit the theme of your little royal babe's room, each car is made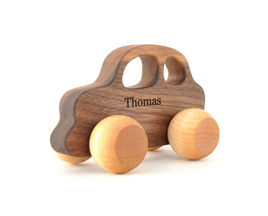 by re-sawed wood. Parts are hand-assembled with guaranteed security. Any of the parts is not a choking hazard, and the edges are smoothed out to avoid any chipping or splinters.
The cars can be customized by adding different engraving on the body. The engravings can be in form of names, pictures, cartoon characters, quotes as well as family insignias. All engravings are hand-engraved or laser-made as required by the customer.
Not only a beautiful addition to your toddlers' play boxes, the baby cars are precious enough to be kept as décor even after the kids grow up and saved as childhood treasures and memorabilia. We assure an excellent execution and timely delivery of any and all order, bulk or individual to our customers with first-rate after-sale services, with the sole purpose of spreading delight and splendor to all the wonderful families.