Recognition and branding is vital no matter which rank you hold. In your house, in your office, work space, designated parking space, or on your desk, name tags and name plates mark the distinction and separate your place from others. This can be done by any ordinary name plate, but for doing it with poise and authenticity; wooden name plates are recommended and are in vogue.
These name plates are the finest available, with top notch wood and perfect craftsmanship, done either hand-made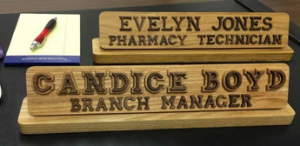 or cut by laser technology; the name plates are the epitome of sophistication. These name plates are available in bulk-produces designs, ready for shipping as well as customized designs for different dimensions and surfaces.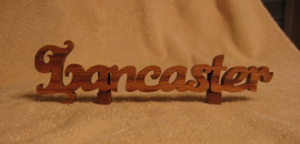 These name plates are made in different sizes and shapes with customized designs on the edges and patterns on the plate itself. The plates are made of different colored wood and can also be colored on demand with long-lasting, glossy paints. The name plates are then adorned with names, designations, ranks or company id of the beholder in several fonts, sizes, italicization, or random capitalization.
These name plates can be made by etching the writings over the base name plate, or by attaching separately made letters on the plate. Another popular method is the cutting of letters and attaching their bases together to made a silhouetted, classic name tag.  These name plates are available for hanging as well as placing on desks with accessories available to facilitate both action, aiming to beautify both your indoors and outdoors atmosphere.