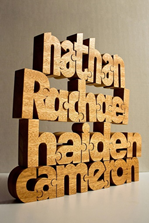 In today's age of contemporary interiors, a vintage touch provides a much needed foundation. Wooden frames, furniture and bookcases tend to do just that but add just a dash of innovation and voila, you have customized, completely handmade wooden puzzles. Suitable for any location and environment, these wooden puzzles are embodiment of creativity and moderation. These are sanded to perfection and maintain a beautiful, long-lasting gloss.
These wooden artifacts are being provided to customers in their desired words and letters, enhancing ingenuity with a lot of personalization. These wooden puzzles can be made in shape of names, places, occasions, exclamations, greetings or just simple random letters. It is not only a must-have for your house décor but is also an excellent present for your loved ones, colleagues, associates, superiors, and friends. It comes with fond memories based on sturdy wooden structures, bound to last a long time.
These customized wooden puzzles are not only perfect for the house-hold environments, but are also immensely apt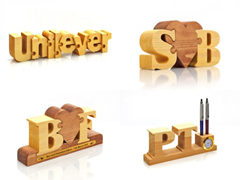 for the corporate organizations and businesses. These wooden puzzles bearing the name of the organization on the receptions and in the waiting areas suggest a coherent, beautifully harmonized working space. Not only is it a graceful advertisement of company's name but also an effortless eye-catcher. Employees with their names as these custom puzzles, is not only an upgrade from the usual placards but has additional functionality as a paper weight. These wooden puzzles can also be custom designed to have additional pen-holding spaces. This functionality makes it much more practical to be used in a professional setting. These wooden puzzles have a notable extent of strength and can be effectively used as bookends in bookshelves and bookcases alike.