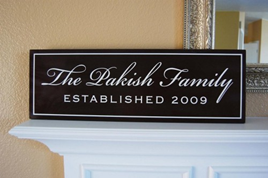 Art and colors bring joy to life. How you choose your surrounding décor depends very much on color. So, why not combine color with wood, the most stalwart substance for construction and embellishment and modernize your décor with a hint of panache.
The wooden signs, usually used for address or name plaque purposes, are modified by using different colored paints on them. These paints are non-toxic and do not produce fumes. These paints are extracted from the mildest pigments and do not damage the wood in the long-run or the short-run.
The paints last extremely long and do not lose their gloss over time. These paints are applied in various shades and

brush-sizes to get the optimal result and then the signs are coated in wax to preserve all the beautiful strokes. These painted signs are multipurpose.
These are made in custom sizes and varying shapes, apt both for hanging and tacking down. These can be used in homes and offices alike with satisfying outcomes as they both family names and office logos can be painted with precision. These signs merge the bravura of high quality paints with the sturdiness of wood to provide you with a product to enrich your ambiance.