Your kitchen is incomplete without one of our fabulous custom made wooden cutting boards. Crafted from hand-picked milled slabs of lumber, our elegant wooden cutting boards make working in the kitchen a wonderful experience. A must have for every cooking enthusiast, our cutting boards can be completely personalized to fit our customer's requirements.  Get creative and have your kitchenware perfectly reflect your personality.
You can get any text or artwork engraved on your cutting board. Own a restaurant or a deli? Our custom wood cutting boards are perfect for branding and marketing purposes. You can get your company's logo engraved on the cutting board or maybe a sweet message for the chef.
Want to thank your mother or maybe your grandmother for those amazingly delicious dishes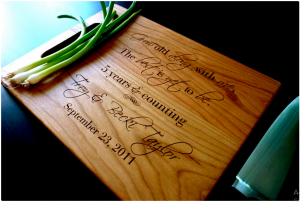 she cooked for you that left you licking your fingers?  Get a sweet message engraved on one of our cutting boards and give it to her. She would love it. Our cutting boards also make excellent gifts for occasions like birthdays, mother's day, bridal showers and weddings. They also make great house warming gifts.
We create each of our products with complete dedication working on each detail with extreme care and our diligence shows in the excellent craftsmanship. Our cutting boards are 100% food safe and the engraving is subtle and beautiful. We make it our top priority to make a product that truly gives our customers their money's worth and matches up to our quality standards. We do not compromise on product quality and the final product is guaranteed to meet our customers' requirements.