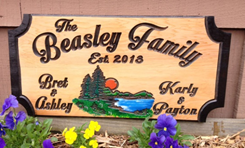 Wood and signs can be a boring combination for businesses. The monotonous fonts and basic shapes fail to turn any heads when applied at official or casual locales. The best remedy for this conundrum is our revolutionary custom wooden signs, with emblems burned into them.
These custom wooden signs are available in custom defined dimensions. These signs are made with finest quality wood with top notch bee wax luster, protecting your beautiful signs for long, long time.
These signs are made with perfectly obtained types of wood, which only differ in the shades. The consistent quality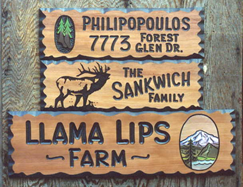 makes them the perfect token for your household. The wooden signs are burned in customized shapes and inscriptions, perfecting your décor according to your tastes and choices.
These signs are perfect for household as well as organizations. These custom burned signs hanging outside your private business, bearing your logo, are a glaring evidence of a homely, elegant ambiance. Restaurants, cafes, bars, libraries, workshops; these signs work best in every imaginable atmosphere.
These burned signs are the missing puzzle piece to all your insignia troubles. Order you preferred sign boards right away to avail the best service and premium quality products at optimum rates.