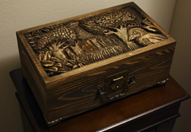 Presentation of a gift is just as much important as the gift itself. The amount of sentiment that goes in the art of gift-giving and presentation usually describes the extent of emotions exchanged among individuals. Selecting presents is usually based on the likes and personality of the recipient. How you present the gift, however, it depends entirely on you. Custom wooden gift boxes help you with this endeavor almost effortlessly.
These gift boxes are made of best looking and most durable woods, re-sawed to perfection. Assembled with great refinement, sharp edges and splinters are impossible to find in these wooden boxes. These boxes are available in a number of sizes, with customizable dimensions. Beautiful carvings are made on the lids as well as the sides of the boxes to provide a scintillating appearance.
The inside of these boxes are lined up with rich velvet or royal felt for safekeeping of the valuables inside. These gift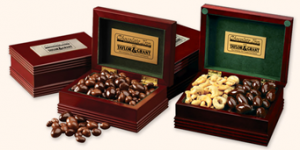 boxes can be embellished with carvings of different drawings or writings. These may include names, occasions or dates. These can also include names and insignia of particular organizations or formal crests of families.
These wooden boxes are available for keeping jewelry, wooden artifacts, coffee beans or dry-fruits inside. Pens, Inkpots, scrolls, vintage table and time pieces, paperweights, and decorative chalices can be presented aptly in these boxes. Many of these boxes are heat-proof and melt-proof to preserve the eatables stashed inside like chocolates. These boxes not only ante up the aesthetic of the souvenir but also revamp the ambiance.