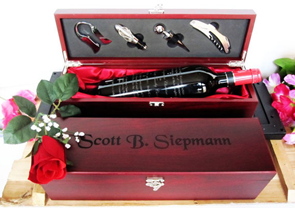 Nothing says festive like a beautiful bottle of fine wine. The customary toasting and drinking is as much a part of tradition as it is self-indulgence. Wine is also presented to loved-ones and acquaintances to commemorate important events. Such an exquisite souvenir surely deserves a packaging equally gorgeous. The wooden wine boxes are custom-designed for the satisfaction of our customers and to compliment the aesthetic of a classic brew.
These boxes are crafted from wood of different species but the highest quality is maintained in every single one. Different woods are used to compliment the present inside. All wine bottles placed in the boxes are securely places and kept in a soft bed of felt and velvet, with a hidden, thick layer of shock-absorbers for dispatch and retrieval in the same perfect condition. These boxes can be made with a slide-open top as well as a regular lift-up top. These can also be custom made having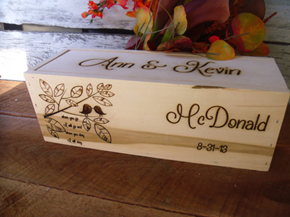 locks. Wooden shelves for other presents can also be custom installed along with the wine bottle inside the box or the presents can be fitted in the top, as per bidding of the clients.
The boxes can be further customized by laser-engraving with anything and everything, from dates to words to pictures to quotes and letters. For any formal souvenir, the name of the organization can also be inscribed. This increases the personal value as well as appeal of the present. Due to laser engraving, precision is guaranteed and references are followed to a dot. All these measures are implemented to ensure perfect service to our client-base and provide top level product.