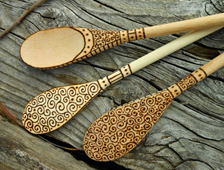 Cutlery, small as it may seem, is a major facet in how you organize and style your kitchen. Spoons in particular, serve many purposes ranging from stirring and serving, to cooking, to eating and lastly, in measuring the quantities required for different recipes. Silverware is a major crowd-pleaser; but with the hassles of polishing and maintenance, biodegradable, customizable, wooden spoons is the way to go.
These spoons are made from wood and are hand carved as well as buffed to a silky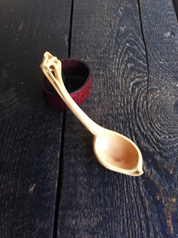 smooth texture. These Hand carved wooden spoons are no less than an exquisite wooden sculpture in any way. These are available in different sizes and designs and are available for laser engravings as well as hand-stampings.
These spoons are used for as many purposes as one can imagine. If you own a catering company, bunch of these spoons with your logo and contact number will be free marketing as well as help decrease misplacements. Similarly, if you are an organization hosting a banquet or a high tea, the wooden spoons featuring your logo is a chic and modish way to keep your organization in the limelight.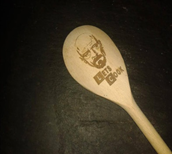 Serve up these spoons at any celebration with the name or occasion inscribed upon them and build a personal relation with your guests. Have these spoon custom numbered or pictured to appease your personal taste and style. Have cartoon characters or small animated heavenly bodies etched upon these spoons to make your child fall in love with theses as well as his food. In short, these spoons are suitable for both work and play, with extra elegance and impressive creativity.