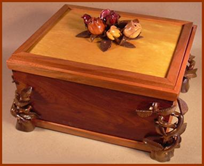 A thing of beauty deserves as protection just as grand. Jewels are said to be a lady's best friends but ultimately, a secure and beautiful box is the best friend and protector of those jewels. Custom made wooden jewelry boxes are made exclusively for this purpose. The best thing about these boxes is the customizable features to give them a personal and unique touch.
These boxes are made from a large variety of woods, including Purple Heartwood,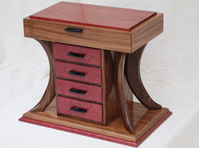 timber and oak. These woods are selected based on types of boxes preferred by the customer. These boxes are also offered in assorted sizes and styles. Beautiful embellishments in shape of flowers, birds and elegant patterns enhance the beauty and exceptionality by many folds.
These wooden boxes are made in many styles ranging from horizontal to vertical storage ability in form of drawers. These drawers are optional in every box and are easy to remove and access. These boxes are preferred by the customer s for small, easy to misplace ornaments like rings and earrings. Many boxes offer separations inside one big compartment, making it easy to store bulky or heavy jewelry. These boxes come with latches and locks attached to ensure prime security.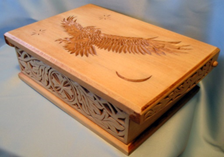 These wooden boxes are also prone to customizable engravings in form of sentences, drawings or carvings. This feature is availed especially while giving a present. These wooden boxes are all made by hand by our dedicated craftsmen, to accomplish every goal set by the customer in due time with pleasing outcome.