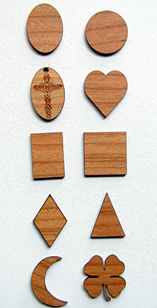 Wood is one of the first materials man used to fashion various tools and necessities. Wood is used in almost anything and everything and every single artifact made with it is effortlessly, an objet d'art. To fill up the corners and empty spaces on your shelves and tables, wooden artifacts are a perfect solution.
With the increase in minimalistic décor type; flashy, gaudy relics are not an option. This is remedied by simple primary shaped wooden knickknacks. These small wooden shapes are made from premium quality wood with more than a dozen shades available in different species.
These wooden shapes are made with sheer dedication and handiwork spanning to days on
each order. These wooden shapes are made of re-sawed wood which gives it a quality finish and luster. Each wooden shape is made with a single block of wood, reducing the chances of splinters or falling apart.
These custom wooden shapes are available in different sizes and are perfect to keep as a curio in your household. These are also perfectly adept as paper or napkin weights. If made in bigger sizes, these are also used as bookends. These are also available with holes to hang as wind chimes or Christmas tree ornaments.
These wooden shapes are extremely useful for children as they fulfill the cognitive needs and help the young brain develop early. These shapes are completely safe for children to use with no choking hazard and are durable with lasting customized paint as per demand of the customer.