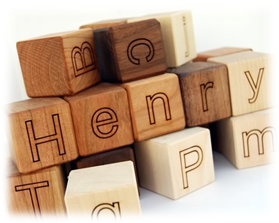 Is it your best friend's toddler's birthday next week? Are you looking for the perfect gift for him/her? Do you want to make it special and unique, so that it stands out from the rest of the presents? Out of ideas?
We introduce to you our Custom Wood Alphabet Blocks that will put an end to this dilemma.
These brightly colored alphabet blocks make the perfect personalized gift with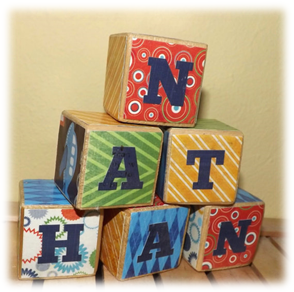 designs of your choice. You can choose from our wide variety of color combinations or come up with your own! Made from the finest quality of wood, these blocks are the perfect fit for toddlers. They are safe for all ages; durable and intricately designed and serve as great toys. Encouraging motor skills development, these toys are fun way to teach kids how to spell their name. Each piece is carefully sanded to give it smoothness and is coated with light beeswax and organic jojoba oil for enhancing the natural, attractive look of the wood.
Our Custom Wood Alphabet Blocks are made to order. Any color or theme can be used to create the perfect for the toddler. These are great for baby shower gifts; nursery décor or wherever your imagination takes you. These are an inexpensive way to add your touch to the present and serve as great keepsakes for grandparents to kids that lasts a long time.
Kids will love to spend hours with these blocks- building, creating and developing sharpness of mind. So why not take this block building to a whole new level? Wooden blocks will serve as true classics and will stay around for generations.
Orders yours right away!